Zanin F.lli designs and develops machines and systems such as cleaners, dryers, conveyors and storage systems for the industrial food farming and industrial sector in general. The company is highly specialised in the production of machinery and systems for the processing of grain, seeds and legumes, for hulling, pellet production and fertiliser treatments.
Zanin F.lli also applies its experience and systems in rail and port logistics, coal, plastic and glass processing, and industry in general.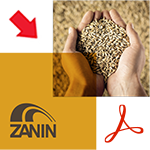 download brochure
Farming Companies
Requiring simple-concept machines equipped with latest generation technology and low capacities.
Consortiums, Cooperative Companies, Retail
Requiring simple-concept machines equipped with latest generation technology and medium to high capacities.

MARKET SEGMENTS
Zanin F.lli is structured into two highly specialised branches of production:
INDUSTRIAL FOOD FARMING and INDUSTRIAL.
Port Services Companies
For the unloading and warehousing of bulk goods with granulometry less than 50 mm. (grain, pellets, fly ash, cement, etc.)
Companies with Railway Yard
Equipped for dumping and warehousing of bulk products (grain, pellets, etc.)
Companies with Specific Needs
Product screening, conveying, packaging systems.

Quality Management Declaration
The main priority for Zanin F.lli S.r.l. in the immediate future is to completely satisfy all those involved in the production cycle (Clients - Employees - Suppliers).
With this scope in mind, only through high-quality services and products is it possible to achieve a leading market position.
At the basis of its Quality Management System (QMS), Zanin F.lli S.r.l. has therefore established the following essential requirements:
Direct, continuous and permanent commitment by General Management in regards to the Quality Management System.
Direct and continuous collaboration of all personnel at all levels to deliver the predetermined objectives (service and product quality).
Compliance with all national, international and local legislation covering the services offered, as well as all provisions subscribed to by the company.
Client relations characterised by maximum collaboration, in any case continuously seeking to properly evaluate all requests, so as to provide timely responses and effective solutions to the issues exposed.
Supplier relations geared towards collaboration, with the aim of improving the quality of purchased products and services.
Continuous research and development of new products and new solutions to provide a valid and prompt response to market needs.
To position the Zanin F.lli brand among the highest ranked companies in the national and international market, thanks to continuous product innovation and presentation using targeted marketing strategies that focus on client trust.
Aware of the important role of human resources, particular attention is afforded to staff training and development.
The QMS developed by Zanin F.lli S.r.l. complies with the requirements of standard UNI EN ISO 9001:15. The Managing Director is committed to the continuous diffusion of knowledge and the application of this standard throughout the entire company.